Pinhole Glasses
Many people suffer from eyesight problems in the course of lifetime, which is why contact lenses or glasses are often essential. However, these vision aids do not cure, they only help to compensate for the defective vision.
The pinhole glasses, on the other hand are designed to support you in a targeted eye training and thus stimulate the self-healing powers of your eyes. You do not have to make an appointment with your optician or ophthalmologist. You can start eye training on your own as soon as you have received your pinhole glasses.
These glasses differ from other common visual aids. Curved plastic lenses in black with punched out holes are set-in into the frame instead of corrective lenses. This enables the desired eye training. The focus of your eyes can be readjusted through these glasses. Both the stimulus processing in your eyes and the impulses that arrive in the brain are processed differently, which can lead to an improvement in eyesight. The eyes have to face this new challenge and thus are taken out from their usual routine. These unfamiliar impressions can lead to a strengthening of your eye muscles and thereby change your vision positively. In order to stimulate the self-healing powers of the eyes, it may be sufficient to practice 15 minutes a day. Initial successes can be achieved after just a few hours of practice.
We offer different glasses for your individual eyesight problem. Depending on your preference and head shape, there are designs made of plastic or metal, each working with a different grid. The standard version with a normal, full-surface grid can be worn by everyone. Glasses with a square pyramid-shaped grid or a bifocal grid are particularly suitable for people with certain dioptre numbers. Furthermore, the glasses with full-surface, fine grid contribute to eye relaxation through their particularly small perforation, as they allow much light incidence. The different grid designs are available in different spectacle frame models. For every model you will also receive instructions, audio-exercises for the training as well as a vision chart to check the training results and a case.
If you are not completely sure about your decision, feel free to order several pairs of glasses on approval. In addition, you have the possibility to contact us by telephone for a detailed consultation, even if you have already received your pinhole glasses. Due to the fast shipping, you will soon have your order at home and can start training. Try everything in peace, because we guarantee the right of return.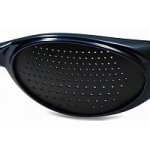 These pinhole glasses have to different hole sizes. In the top of the field of view is a smaller and tighter dot screen, in the lower field of view...
Page 1 of 1
Items 1 - 9 of 9
---